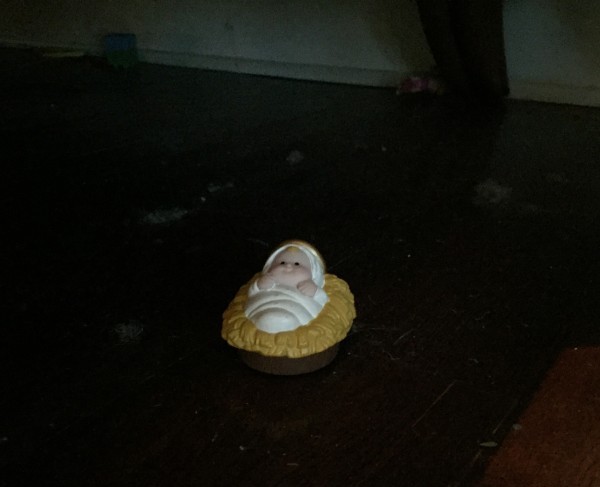 You will seek me and find me, when you seek me with all your heart. – Jeremiah‬ ‭29:13‬ ‭ESV‬‬
As a family, we try to set up most of our Christmas decorations the day after Thanksgiving (unlike the malls and other retail establishments, who decided to start before Halloween arrived… but that's another story entirely). Some of our favorites include a whimsical and plump reindeer, a Mickey Mouse nutcracker and, of course, an angel treetopper.
Another favorite that's centrally located on the coffee table is the Little People nativity scene. The kids love playing with these characters and it's a fun way to help them interact with the real story behind the season.
A few days ago, I was cleaning up the normal whirlwind after the kids had gone to bed. Most of the nativity characters were strewn about the living room, although a few pieces made it all the way into the hallway and dining room. I found all of them, that is, except for baby Jesus. He was nowhere to be found.
After picking up the entire house, I still couldn't find Jesus. Crawling on my hands and knees, I began to peer under furniture and everything else. After all, what's the point of the Christmas story without it's main character? 
Crawling under the children's writing desk, I finally found what I was looking for. The baby Jesus had landed under the sofa. The picture above is exactly what I found, dust bunnies and all (just in case you were under some delusion that our lives are somehow as perfect as everyone else's you read on Facebook).
I immediately recognized this for the poignant metaphor that it was. Even in the midst of the season where Jesus is supposed to be the focal point, it's so easy to lose Him altogether. I say He's "the reason for the season", and I truly believe that. But amidst all the busyness and chaos and distraction and commercialism competing for my attention, I must admit it's often quite difficult to keep the main thing the main thing.
Despite my general busyness and distraction, I'm grateful the Holy Spirit provides such periodic refocus back on spiritual truth. It's a good reminder that without our intentionally getting on my knees and seeking the Savior, we will not find Him. But when we do, He will be found because He wants to be. Without such intentionality, Jesus is longsuffering with us and is (more often than not) content to wait for us to return to Him on our own volition.
Perhaps that's what this verse means, in part. When we seek Him halfheartedly, we generally won't find Him. But when we're willing to go "all in" and seek Him intentionally with all our heart — intentionally pushing aside the chaos and commercialism of the season — He'll not only share Himself but also lead us to embrace a deeper experience of the true meaning at the center of the Christmas season.
Has Jesus been missing thus far from our experience this holiday season? If so, perhaps we might consider this as His invitation to look for Him on our hands and knees.
After all, that's where we will find Him.