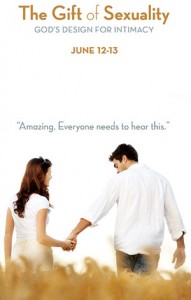 For those who are local to the Atlanta area, I'll be speaking alongside some of my favorite colleagues at Church of the Apostles June 12-13.
Here is the itinerary for the conference, titled The Gift of Sexuality – Pursuing God's Design for Intimacy:
Friday night (7-9:30 pm)
God's 'Yes' to Sex – A Biblical Theology of Sexuality (Dr. Mike Sytsma)
When Hercules Met Sleeping Beauty – Pursuing Intimacy from Different Worlds (Kristen Smith-Vaniz and Dr. Mike Sytsma)
An Honest Dialogue – The Single Adult's Sexual Integrity Path (Michael Todd Wilson)
Saturday morning (9am-12pm)
Reclaiming God's Design – Keys to Lasting Change (Michael Todd Wilson)
Equipping the Next Generation – Imparting a Godly Perspective on Sexuality to our Children (Dr. Mike Sytsma)
We live in a culture that is very sexually adrift. I appreciate Apostles' willingness to help anchor Christians to God's truth. 
This event starts a busier than usual summer speaking schedule for me. Next weekend, I'll be in Canada for a weekend event. Then in September, I'll travel to Nashville for the American Association of Christian Counselors World Conference sharing content from my latest book, Unburdened, which is due out in August from InterVarsity Press.
Hope to see many of you in Atlanta at Apostles!