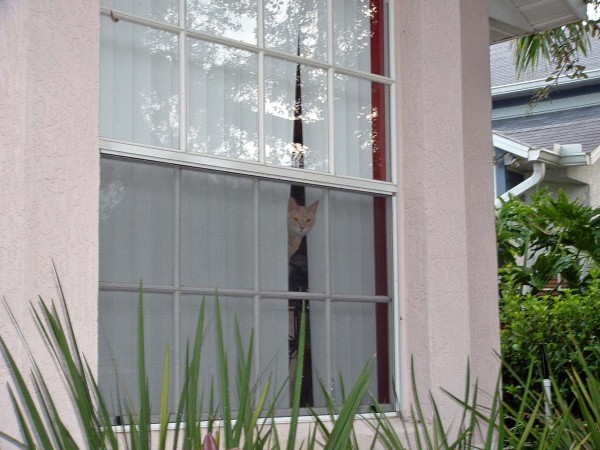 David asked, "Is there anyone still left of the house of Saul to whom I can show kindness for Jonathan's sake?" Now there was a servant of Saul's household named Ziba. They called him to appear before David, and the king said to him, "Are you Ziba?" "Your servant," he replied. The king asked, "Is there no one still left of the house of Saul to whom I can show God's kindness?" Ziba answered the king, "There is still a son of Jonathan; he is crippled in both feet." "Where is he?" the king asked… When Mephibosheth son of Jonathan, the son of Saul, came to David, he bowed down to pay him honor. David said, "Mephibosheth!" "Your servant," he replied. "Don't be afraid", David said to him, "for I will surely show you kindness for the sake of your father Jonathan. I will restore to you all the land that belonged to your grandfather Saul, and you will always eat at my table." Mephibosheth bowed down and said, "What is your servant, that you should notice a dead dog like me?"… And Mephibosheth lived in Jerusalem, because he always ate at the king's table, and he was crippled in both feet. – 2 Samuel 9: 1-4, 6-8, 13, NIV84

I was speaking with a client the other day when the subject of God's mercy came up. In part, the conversation centered around the Old Testament story of Mephibosheth. He's not a well-known character in the Bible, but one for whom I have a particular affinity. So much so, I named a cat after him ("Phibo" for short – in the picture above, he's peering out the front window anticipating my return from work one day).
Anyway, the conversation reminded me of an article I wrote a long time ago. Rather than retell the story here, I thought I might just reprint what I wrote (note: before blogging went mainstream, I sent physical newsletters to folks every quarter). It's from my single days while living in the Orlando area, way back in 2002.
Enjoy this "blast from the past"!
---
The story of Mephibosheth is one of my favorite stories in all the Bible. It's a beautiful story of God's mercy, as depicted through the heart of one of the greatest Christ figure of the Old Testament: King David. The word "kindness" in the NIV is unfortunate and misses the richness of the Hebrew word "checed" (pronounced "kheh'-sed"), which can also mean "mercy" or "pity". It is the word often used about God's treatment of us, who receive generously from God but are completely undeserving of such treatment. We are the Mephibosheth character; God plays the role of the king.
Most of you know me well enough to know my love for modern-day parables, word pictures from our daily lives which retell and remind us in refreshing ways the story of our redemption. While living in St. Simons Island in 1996, I decided to adopt a second cat from the Humane Society (I've always had a heart for adoption because I think it also is a modern-day parable reminding us of our adoption as sons and daughters of God). While looking over the options, I was drawn to one particular kitten who was very playful, but noticed that a sizeable piece of fur was missing from the bridge of his nose. When I asked about this deformity, I was told that the kitten was extremely playful and lively; however, one of the adult cats there was not amused by his frivolity and swiftly took a swipe at his nose, taking off the fur and leaving a considerable section of exposed skin. The director felt it was unlikely the fur would ever grow back. At that moment, the story of Mephibosheth came to mind. There was no more debate: this was my kitten! Phibo (short, of course, for Mephibosheth) is still with me to this day. Amazingly, his nose has healed with little evidence of the previous tragedy, but the living parable continues to play itself out before me on a daily basis. For every time I interact with Phibo I can't help but feel a heart of gratitude for my King, who took in such an undeserving "dead dog" like me.
Being the type-A personality that I am, I often have the tendency to become distracted by the excitement of God's activity (or the lack thereof) and lose sight of the sweetness of simply being in relationship with Him. There is yet another part to the story of Mephibosheth that God is now attempting to sink deeply into my life. It doesn't take place until II Samuel 19:24-30, years after the events of chapter nine. King David is returning to Jerusalem after fleeing from his own son Absalom's attempt to capture the throne by force. It seems that at the time of the king's flight from Jerusalem, Ziba betrayed Mephibosheth and deceived King David into thinking that Mephibosheth was not on David's side, that somehow he might attempt to win back the throne of his grandfather Saul if something happened to David in the battle against Absalom. David became angry with Mephibosheth and gave the land he had previously given to him in chapter nine to Ziba, his deceiving servant. In chapter 19, however, we see David returning home to Jerusalem and, seeing Mephibosheth for the first time, he questions him about it. Mephibosheth's humble response pierces my heart every time I read it:
Mephibosheth, Saul's grandson, also went down to meet the king. He had not taken care of his feet or trimmed his mustache or washed his clothes from the day the king left until the day he returned safely (an act of mourning). When he came from Jerusalem to meet the king, the king asked him, "Why didn't you go with me, Mephibosheth?" He said, "My lord, the king, since I your servant am lame, I said, 'I will have my donkey saddled and will ride on it, so I can go with the king.' But Ziba my servant betrayed me. And he has slandered your servant to my lord the king. My lord the king is like an angel of God; so do whatever pleases you. All my grandfather's descendants deserve nothing but death from my lord the king, but you gave your servant a place among those who sat at your table. So what right do I have to make any more appeals to the king?" The king said to him, "Why say more? I order you and Ziba to divide the fields (remember, David previously gave them to Ziba out of anger). Mephibosheth said to the king, "Let him take everything, now that my lord the king has arrived home safely."  (2 Samuel 19: 24-30, NIV84, parenthetical comments mine)
Mephibosheth didn't care about the fields; he was just glad his master was home safe! Every day when I arrive home from a long day at work, Phibo runs at full speed to the door and lets out "meooooows" that I'm certain on somedays could wake the dead. He immediately forgets the hours upon hours I haven't been there to give him attention – he only is elated that I have arrived home safe and sound. Oh, how I pray that someday I will be able to say with Mephibosheth these words of pure devotion to my King: to overlook the offenses of others and to have such a pure longing for a deeper relationship with Christ. May I desire to see His kingdom established and remain dissatisfied with the thrills and trappings of this life because I choose to mourn with Mephibosheth… until the return of the great King!